Australia | Exploring Sydney
Last year when I began thinking through my itinerary for this around-the-world trip, I had originally planned to conclude my travels in Australia. I thought I would start in Europe first since I'm somewhat familiar with it and make my way east, but a serendipitous meeting in Nicaragua had me reverse course. There I met my friend Kate who's Australian and she advised I start in Australia so that I'd catch the beginnings of fall there and avoid the Australian winter.
I expected Australia to be very similar to California, and I loved that that turned out to be true in Sydney. It's hard on the wallet, but easy on the eyes. The city feels comparable to Los Angeles -- it has its downtown, its surrounding neighborhoods each with their own unique story and offerings, and its picturesque coastal stretches. It's a place that embraces an active, healthy, easy-going, and outdoorsy lifestyle with plenty of excellent restaurants, shops, and activities that will quickly break a backpacker's budget. It felt familiar, like another version of home, but with an attractive accent.
I went hard with the brunching and sight-seeing on my first day in Sydney with Kate, and woke up sick the following day, which meant sticking close to my hostel bed for about three days until I was feeling ready to get back out there. Since I lost a few days for exploring, I ending up extending my stay in Sydney and moved from the CBD area to a different hostel in Bondi. I loved staying in this part of Sydney and would have likely skipped over this area pretty quickly had I not been sick so that worked out to be a benefit. This change of plans also provided additional time to meet up with Kate in between her busy schedule, and I'm so thankful to have had her friendship and local insight during my week in Sydney.
There are loads of things to do in Sydney and this list barely scratches the surface, but here are my top five recommendations for a first-time visit. I have no doubt I'll be making a return trip to Australia in the coming years to see and do more.
1 - Climb the Sydney Harbour Bridge
I did the Sydney Harbour Bridge Climb on my first full day in Sydney and it was a beautiful way to get oriented with a macro view of the city. This will likely be one of the priciest activities I do during my travels, but I do think it's worth it if you can swing it. Prices differ slightly based on the time of day you choose, with dawn and twilight being the most in demand and expensive options. I chose twilight and paid a whopping $277 USD ($368 AUS). The tour lasted about three hours, which includes the pre-climb safety prep where you suit up, climbing the Sydney Harbour Bridge to the summit, and photo ops at various points during the climb. The guides were excellent and shared a bunch of history and trivia information throughout the tour. For safety reasons, we couldn't bring cameras or phones on the climb. The downside of this is you pay a premium if you choose to purchase photos (I only bought one...), but at the same time this limitation also forces you to be fully present and just enjoy the experience. We had wonderfully clear skies for the sunset this evening and you'll just have to take my word for it that it was stunning.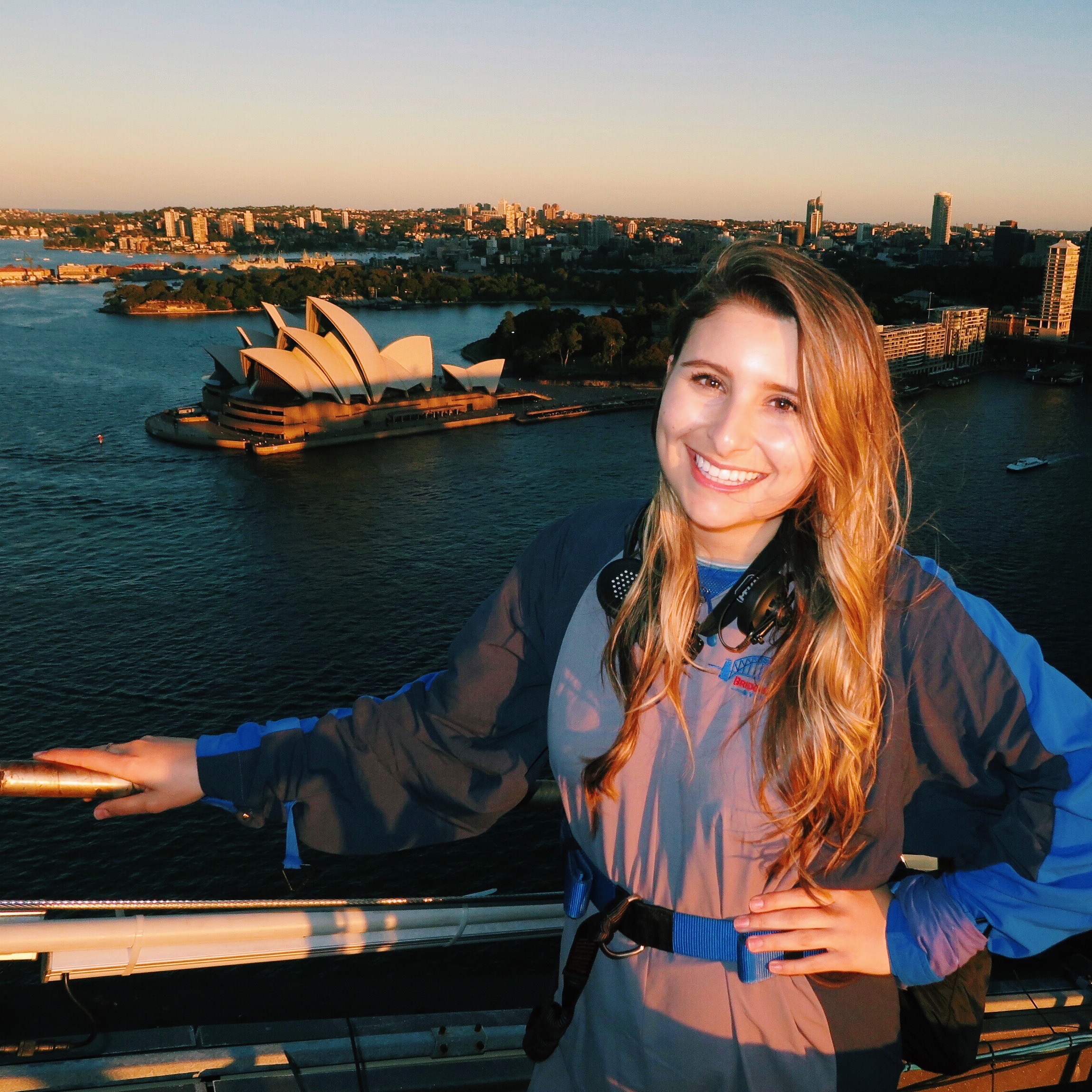 2 - Sydney Opera House
It doesn't get any more iconic than this. The silhouette is renowned but the details as well were fun to admire up close. The structure is covered in beautifully patterned tile and the curves of the building are meant to resemble ship sales. Some fun facts that were shared during the bridge climb tour: 1) the construction cost was originally estimated at $7 million AUS but ended up costing $102 million AUS, 2) the original estimate to build was 4 years, yet it took 24 years to complete, and 3) it's said that if all the sails were joined together the angles would form a perfect sphere.
3 - Blue Mountains National Park
This was the first place I went once I was feeling better and I'm so glad I extended my time in Sydney to make it out here. During my week here I traveled around via bus and train with their Opal Card. They have an awesome deal on Sundays that allows you to travel as much as you want with a $2.60 cap. To get to the Blue Mountains, I took the train from Sydney's Central Station to Katoomba, which takes just over two hours each way. The Blue Mountains area is massive so you'll need to then arrange transport by either a bus or a tour to get around. I chose to book a ticket with the Blue Mountains Explorer Bus -- it includes a route to 29 different stops and you just hop-on and hop-off to do a self-guided tour. For a full day out, it only cost $52.90 ($50 for the Explorer Pass + $2.60 train ticket) and I loved the flexibility of choosing whatever I wanted throughout the day. I would definitely recommend going this route since tours that pick you up and take you from Sydney start at $89 and you're pretty much tied to the group you're with and the predetermined itinerary. I left around 9am, but I would recommend leaving closer to 7am. This would be a great place for groups or families to stay overnight and spend two days so you could fit in more hiking time. I spent the day walking between the main points of interest, grabbed a late lunch at Leura Gourmet Cafe & Deli, caught the sunset from the train back to Sydney, and then visited Hillsong Sydney for their Sunday evening service.
The most visited stop is the Echo Point Lookout and it provides panoramic views of the Jamison Valley and the iconic sandstone formation, The Three Sisters. The Blue Mountains do in fact have a blue haze, which comes from light and dust particles interacting with the eucalyptus oil in the atmosphere that's produced by the trees that blanket the area.
4 - Bondi to Coogee Walk
This gorgeous coastal walk is a must-see while in Sydney. You can approach it from either end and the 3.7 miles will take you about two hours from one end to the other. The walk takes you past Bondi Beach, Tamarama Beach, Bronte Beach, Clovelly Beach, and Coogee Beach and the landscape is stunning throughout. There are many rest stops and facilities along the way to pause at and I recommend starting early in the day (the walk is exposed and you want to avoid the midday sun) and then grabbing brunch at Coogee or Bondi.
The walk will also pass by the oceanside swimming pools at Bondi Icebergs Club and Bronte Baths. The ocean is mesmerizing to watch along this walk, especially at these points where waves occasionally crash up and over the pools.
5 - The Grounds of Alexandria
Kate took me to The Grounds of Alexandria on the morning before my flight out of Sydney since it's close to the airport and it's the perfect stop when flying in or out of the city. It's in the former industrial section of Sydney and has been transformed into this amazing sanctuary that includes a cafe, restaurant & bar, garden, bakery & patisserie, coffee roastery, animal farm, florist, markets and more. We visited close to Mother's Day and they had the whole place decked out with special decor and photo ops. Every detail here is perfection and it is a lovely place to spend a few hours while you grab a meal and take in the well curated scenery.
+ WHERE TO STAY
Wake Up! Sydney Central - This hostel is in the heart of the CBD and put me close to the Sydney Harbour, the Opera House, and the Botanical Gardens. It's right next to Central Station so it's easy to get around to other neighborhoods. It was spacious, comfy, clean, well-managed and had a helpful travel desk for booking tours and a great cafe and bar on the ground floor.
Bondi Backpackers - I wish I would have moved closer to the beach sooner. I loved staying here as the location could not have been better. This hostel is immediately opposite Bondi Beach and has amazing rooftop views for prime sunrise and sunset viewing. It's an older building so the bathrooms are a bit cramped, but it was still clean. They offer local discounts and free activities throughout the week as well.
+ WHERE TO EAT
The Boathouse - Rustic cafe perched above Balmoral Beach a bit north in Mosman; I was served a gigantic portion of avo toast and basically inhaled it. A+
The Meat & Wine Co. - Located in The Rocks neighborhood next to the Harbour Bridge; great place for a meal following the climb tour and order what the restaurant name suggests -- I had kangaroo with a glass of Malbec.
Harry's at Bondi - Another spot-on recommendation from Kate; this wins the pancake contest.
Speedo's Cafe - Lovely spot close to the beach in Bondi; go for savory instead of sweet here.
Coogee Pavilion - Looks out onto Coogee Beach; comfy and delicious, but a bit more expensive that other nearby cafes + restaurants.
Coogee Courtyard - Solid brunch spot after finishing the Bondi to Coogee walk.